Home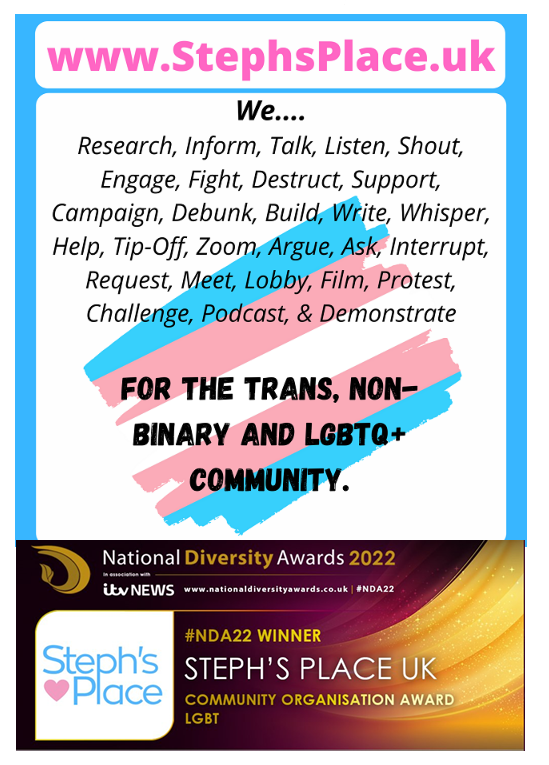 Welcome to Steph's Place!
Winners of the National Diversity Awards LGBT Organisation 2022.

Yes, we are growing even more!
In December 2022, Steph's Place UK was rebranded as "TransLucent.Org.UK (CIC)".
CLICK HERE TO GO TO OUR NEW SITE.
A note from Steph......
This website was built during the height of the COVID-19 pandemic from April to June 2020, when I finally realised that the world is becoming a very transphobic place.
In the spring of 2021, Claire, Julie and Paul joined me as Co-Editors, and in the summer of 2021, we welcomed Nicola. In early 2022 our team increased still further with Esjay (social media), Freda (vlogs) and Vicky (podcasts) joining the team.
But what about transphobia (the prejudice against trans people) in the UK?
Well, our international "ranking" as an LGBT+ friendly country slips further down the league table every year, and in 2021 both the EU and UN criticised the UK for being a transphobic country.
Sadly, in January 2022, the Council of Europe bracketed the UK with Russia, Hungary and Poland with ITV reporting:
The UK has been identified as a country notable for "extensive and often virulent attacks on the rights of LGBT+ people" over the past several years.
The Parliamentary Assembly of the Council of Europe (PACE) identified the UK alongside Hungary, Poland, Russia and Turkey as countries where this was of most concern.
All the editorial team at Stephs Place have different skills. Claire tends to concentrate on investigative journalism, backed up by Nicola and myself. Julie tends to work on trans healthcare and lifestyle issues. Paul is our "go-to" if we need to debunk false stories or topics. He is also a true expert in anything sport-related. More details can be found on the About Us page.
I never intended to build a website and work twelve-hour days being a trans and women's rights activist.
In reality, I just wanted to blend into society, live out my last few remaining years as an accepted post-op trans woman, go to the shops and work towards joining a choir. Singing is my passion.
But I can't allow persecution and prejudice to pass me by.
In the UK, we claim we do not discriminate against people of colour, and we claim we don't discriminate against people who have different sexual orientations. But trans people are often the exception - about 20% of the UK are transphobic, and discrimination occurs regularly.
Evidence shows that around 50% of trans people feel unable to leave their homes for fear of abuse and that 80% experience some form of hate crime every year - the vast majority not reported to the police.
This is being caused by the UK right-wing press, who drive transphobia - The Times, The Telegraph, Daily Mail and The Spectator in particular.
In the year 2018 - 2019, over 6000 articles were written in the UK press about trans folk, the vast majority in a negative way. Many 'trans hostile' articles refer to "trans ideology" or "gender ideology" - nothing of the sort exists. This is just a clickbait phrase to 'politicise' a marginalised minority group.
Trans people are people - biology, not ideology.
We never "choose" to be "trans" - it was a matter of survival, and transition is one of the most difficult journeys in humanity.
In reality, transgender people are just plain ordinary folk wanting a little space to overcome their problems and be able to live a peaceful life - we should not be "politicised" by the media and politicians - this being an old tactic used against LGB people in previous decades.
Attacks on trans people invariably centre on two issues.
(1) Sport and in particular, trans women competing at 'elite level'. What the newspapers don't tell the public is that trans people have been eligible to compete at the Olympic Games since 2004. In that time, 71,000 athletes have competed in the Olympics, but only three have been transgender. Only one trans woman has competed in the Olympics (Laurel Hubbard). However, the British press whipped up so much hysteria that she became the second favourite to win the gold medal at the bookmakers. In reality, she was officially ranked 16th - and that is where she finished, 16th and last place.
(2) Single-sex spaces. The newspapers spin the idea that trans women are a danger to women and cloak their transphobia in the name of women's 'sex-based rights'. In reality, we all have human rights, but it is trans rights that are not being respected. I am 70 years of age, have been on hormones for around eleven years, had lower surgery in July 2019, have no criminal convictions, sound and look like a woman (you can see my picture by clicking here) - and if I were sent to prison tomorrow, I would be sent to the male estate. Can you imagine my fate? This is because I am not eligible for a Gender Recognition Certificate (GRC) as per the Gender Recognition Act (GRA).
The transgender community have been waiting years for a reformed GRA but the newspapers and transphobic hate groups have campaigned against this, despite just 1% of trans people having a GRC.
In consequence of all the negative press our community suffers, in April 2022, we started our #StopFundingHate campaign, asking large companies not to advertise in newspapers that drive transphobia - the prejudice against trans people.
It is essential that trans folk make themselves visible to society and demonstrate who we are, and point out the mountain of problems we have to overcome to live a normal life.
All of our team campaign for women's rights and are against patriarchy which is still prevalent in UK society today.
We stand against violence against women and girls with our #EveryThreeDays campaign, which ended in April 2022. In this year-long campaign, we researched and wrote about the murders of 125 women killed by men.

We hope our writings will, over time, build up quality content and comment as we start to expose the shocking injustice trans women suffer in the UK and are always interested in publishing stories from other journalists and would-be journalists.
Another of our passions is trans healthcare which is in disarray in the UK. We would encourage GP's to check out our page "NHS Guidance for GP's because we firmly believe primary care saves much suffering and, indeed, lives. Waits can be up to six years on NHS waiting lists before even seeing a specialist at Gender Identity Clinics.
We would also recommend that trans folks consider the private healthcare services of GenderGP.
We must mention that dealing with kids is very different. Girls, in particular, are sometimes not happy with their bodies and see being "male" as their destiny. It is important that kids are seen by highly trained experts in this field, sadly though that may mean not relying on the NHS.
And finally, a bit more about me.
I am a "radical feminist".
In June 2022, I was platformed live on Radio Four for the hour-long programme #AntiSocial, with a 600,000 audience discussing trans rights. This programme was recorded and will remain on BBC Sounds until June 2023. Click HERE to listen.
Also, in June 2022, I was a guest speaker at a Trans Rights Protest outside Downing Street.
My gender is a woman - (gender is your personal belief to your rightful sex).
My sex is a trans woman - (sex is a spectrum or sometimes called bimodal).
The simple fact is that, unlike 99% of the population, I was not born with the privilege of my body being in sync with my brain.
I have had to work my butt off to correct nature's mistakes.
Yes, I was once a man, but I have taken the "trans" journey and arrived at my final destination of peaceful womanhood.
Thank you so much for visiting Steph's Place website, and I hope you find it informative and enjoyable.
Steph xx
Twitter @PlaceSteph